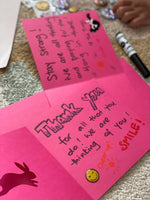 With most people's lives being completely turned upside down and businesses being affected, Covid-19 has not stopped our passion to give back. Instead of focusing on the negative, we've decided to put our resources towards helping the very people who have built our city and homes. 
On Easter Sunday, we launched 3 of our most joyous and cheerful pieces from our Moments Collection and pledged up to 50% of the proceeds from the sale of that launch towards raising funds to provide food for the quarantined migrant workers. Banding together with a like-minded community, we worked with 20 caterers and a team of up to 10 private hire drivers to deliver food to ~500 migrant workers. Each day we managed to provide two square meals (Indian cuisine) with an addition of 2 – 3 pieces of fruit.
Together with several families and our kids, we also made encouragement cards to accompany the meals distributed to the workers. We were so glad to see the smiles of gratitude from the workers as they waved their cards in thanks to all who helped make them.

We could not have done this without the generous support and encouragement of our TMP community, so thank you for helping us to give back and show love in a time of need.