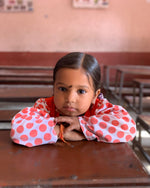 The Missing Piece teamed up with 9 other women-led businesses to create a campaign featuring 10 gold-themed collections from November 2019 till Christmas Day 2019. With the aim to raise a minimum of $10,000 for the campaign, we have rallied together with their communities and raised $13,692 influencing hundreds of others to participate in the spirit of giving.


With the theme in mind, we designed
7 exquisite pieces
that encompasses The Missing Piece women who are multifaceted yet elegantly beautiful in their own individual ways.
We pledged 10% of our sales in December from this capsule to go towards supporting Operation Hope ($3,692). The total funds went towards rebuilding homes for villagers affected by the 2015 Nepal earthquake, and building a bigger safe haven for abandoned children and orphans with provision of education, healthcare and life skills in Pokhara, Nepal. To Crib Society and the brands that partnered with us in this initiative, thank you for championing such a great cause and making a difference! 
@ans.ein
@badtandco
@chocgems
@in_trigue
@jeannierichardjewelry
@jokilda
@ksisters.sg
@nidashay
@triathelabel