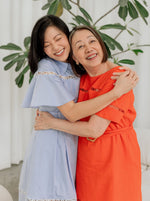 As part of the TMP Gives Back Program, TMP is partnering with Daughters of Tomorrow ("DOT") and their amazing initiatives to empower women and enable families. DOT's mission is to facilitate livelihood opportunities for underprivileged women, to support them in achieving financial independence and to enable social mobility for their families.
More than 25,000 women from low-income families in Singapore are struggling to find and sustain a living. DOT aims to support these women towards gainful employment and a better future.

As part of this partnership, we have designed a TMP Monogram Capsule line with versatile and contemporary chic pieces with our customised trims and monogram prints. 20% of the proceeds from the TMP Monogram Capsule line will go towards supporting DOT's "IT Literacy Program" to help these underprivileged women get back into the workforce.
We also hope in the future to be able to work with some of these women and be part of their journey in working towards upwards social mobility.

Do show this initiative some love and support by purchasing pieces from the TMP Monogram Capsule line.  Enjoy a beautiful, unique TMP piece for yourself or gift it to someone for the festive season. At the same time, make a meaningful contribution to a worthwhile cause.
To find out more about DOT, please visit their
website https://daughtersoftomorrow.org
If you would like to donate more directly to them, please check out the following  campaigns that they are running and have 1-1 TOTE board matching. 
Thank you for partnering with us!