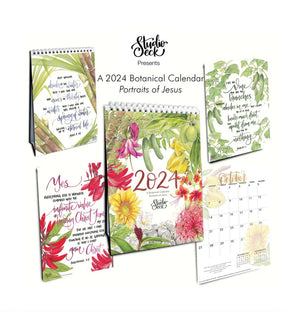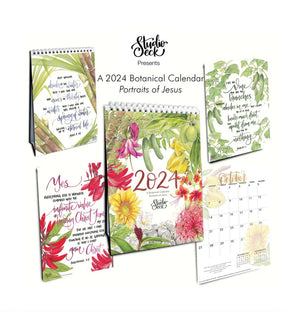 2024 Botanica Calendar
Our favourite calendars from Studio Seck are back this year!
Introducing the 2024 Edition of our Botanical Calendar - Inspired by visual representation of Jesus Christ!

This calendar not only serves as a practical tool but also as a powerful reminder of God's presence in your life. It's also a thoughtful gift option for this season.
Combining functionality with beauty, each month showcases unique artwork centered around a theme related to Jesus, paired with a meaningful Bible verse. What sets this calendar apart is its incorporation of local plants from sunny Singapore, bringing a touch of nature into your home.
Features:

Calendar size: 7" wide x 9.75" tall, designed for easy desk placement
Monthly feature artwork anchored on a theme about Jesus, along with scripture and thoughtfully selected botanicals
Monthly grid pages with the preceding and following months for reference
Gridlines on the monthly grid pages for convenient scheduling
Bible verse printed on the calendar side
Non-glossy paper that's perfect for writing on
Sturdy chipboard stand for durability
Includes a sticker sheet with colored icons and 2024 Singapore Public Holidays
Each calendar is packed in a cello bag to protect against water damage